We are excited to announce that we are giving away another two $25 iTunes gift cards (or cash value). The date we are giving away these free prizes is July 1, 2012!

All you have to do is be an Elite Member and you are entered in the drawing. We will post the winners here and they will have one week to claim their prize.

Again you do not have to be active to win (although it's very appreciated if you are active) but you only have to be an Elite Member. The winner will be picked electronically where all Elite Members will have an equal chance of winning.

So all you have to do is sign up for an Elite Membership account and you are automatically entered into the drawing to win one of these iTunes gift cards!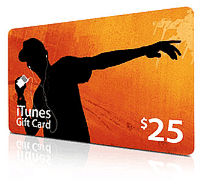 An iTunes Gift Card lets you shop for anything at the iTunes Store — 24 hours a day, 7 days a week. Shop for music, movies, TV shows, apps, audiobooks, and more. iTunes Gift Cards come in various amounts, and you can choose from multiple colors and themes.